The proper marketing of Bitcoin casinos is becoming an essential part of succeeding in iGaming. In the past, all a casino needed to do to get a piece of the Bitcoin pie was to integrate Bitcoin payment in its infrastructure.
That time is long past as more and more gaming sites are recognizing the cryptocurrency's inherent advantages. Now, casinos should start trying to set themselves apart from their rivals by ensuring their marketing campaign makes their brand look unique and better than the competition.
Unfortunately, according to CoinPoint, a premier Bitcoin media and marketing agency, many online casinos are making mistakes as they try to raise their brand's profile in the market. This can be traced to their being amateur attempts to taking wrong marketing advice. The marketing agency points out three common missteps that online casinos often commit when seeking to market their brand.
Affiliate faux-pas
One of the most common mistakes in online marketing is being too aggressive. Regrettably, this is exactly what many online casinos do with their affiliate marketing campaigns. Affiliates are rewarded for every new customer to the casino and this often encourages rabid evangelizing by affiliates so that they can claim the perks offered.
There are several things that are wrong with this approach. First, no one wants to deal with someone who is too pushy. The usual result of an affiliate doing some aggressive selling is for a potential customer to not respond. Second, affiliate marketing seems amateurish in approach. This is mostly because a company is sourcing out their advertising duties to non-professionals. Finally, the revenue from this approach cannot be measured properly. A casino may not even be getting any profit for all of the bonuses they offer to their affiliates.
The correct approach would be to dial down the marketing. Instead of being aggressive, it would be best to take a passive approach of creating a Facebook page for the casino. Updating the page regularly with fresh and interesting content will serve to attract customers who are more open to visiting the casino. This is mostly because they are not feeling forced and are genuinely attractive to the idea of playing in a Bitcoin casino .
Newsletter mistakes
Another common mistake is how some online casinos handle their email campaign. Email bursts and newsletters have been the mainstay of many marketing campaigns. The trouble is that many Bitcoin casino owners do not pay proper attention to it; they think that all that needs to be done is to paste the form and send it out.
This results in a sloppy-looking result. Some of these email campaigns have noticeable misspellings and typos when brands promote their latest Bitcoin casino bonus offerings. This makes the sender seem amateurish and careless, not to mention unprofessional. This is an impression that online casinos, which often deal with money and confidential information, do not want to make.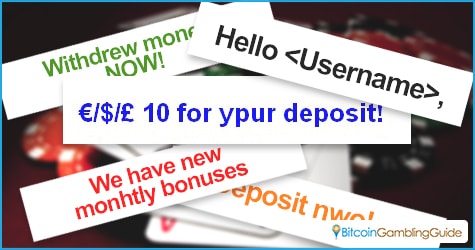 Furthermore, technical glitches can pop up like the username not being properly displayed because of faulty HTML coding or a database error. Having a professional handle a casino's email marketing campaign ensures that such incidents are prevented.
Never pay for reviews
Finally, raising a company's profile takes more than advertisements. Becoming more visible requires that it looks organic. This is where review sites come in.
When a casino or a game is being appraised by reviewers, people see their positive sides and this can attract players. The problem is some review sites ask for payment before they consider reviewing a casino or game. Paid reviews are just the symptom of a larger problem with the industry: the focus on short-term profit over the assurance of quality in the brand.
Companies should focus on creating the best brand possible, whether it is a game or a casino in the Bitcoin industry. By providing added value to their product and supplying great bonuses and jackpots, a product can rise to the top on its own merit.
Knowing what mistakes are being made in marketing is just the beginning. Bitcoin casino marketing needs to be handled by experts like CoinPoint so that any further errors are avoided and that a campaign should be done in a professional manner. Online Bitcoin casinos who want to outshine their competition need to contact a specialized agency and benefit from the CoinPoint integration services and marketing solutions so that they can make their mark in the field.
Like this article? Place your comments below