CoinDesk's 2016 State of Bitcoin and Blockchain report summarizes key trends, data and events from 2015, details findings from our annual Thought Leader's Survey and includes predictions on what to expect in 2016.
This article highlights a few of the key findings from the report.
2015 Review
The major story from 2015 is undoubtedly the increasing focus on bitcoin's underlying technology, commonly referred to as blockchain or distributed ledger technology (DLT). Many parties, from government authorities to financial institutions, began to examine potential applications of DLT for securities transaction settlement and other use cases.
Meanwhile, bitcoin's price and exchange trading volume bounced back strongly after a gloomy first half of the year.
Venture capital investment increased 36% year-on-year, although the pace slowed down in the second half of 2015. Mainstream retail adoption of cryptocurrencies continues to lag due to a lack of compelling use cases, and there are also signs that bitcoin's use on the dark web has peaked .
Bitcon's scalability debate was a hot topic in software developer circles in 2015, and it recently spilled over into mainstream discussion with the high-profile departure of developer Mike Hearn . While many proposed scalability solutions exist, none have achieved sufficient consensus for deployment.
However, industry leaders who were surveyed state they are confident that the question of bitcon's scalability will be resolved, at least in the short-run.
Overall, the tempo of industry regulation slowed 2015.
The New York BitLicense , the state's industry-specific licensing regime, went into effect in August, and the European Court of Justice (ECJ) announced that bitcoin transactions are exempt from value-added tax (VAT) in October.
'Blockchain, blockchain, blockchain!'
R3CEV has made significant progress by gathering 42 major banks and financial institutions to participate in its DLT initiative.
The combined market cap of the consortium is $600bn, and 60% of the financial institutions participating are global systemically important financial institution (SIFIs) (Slide 99).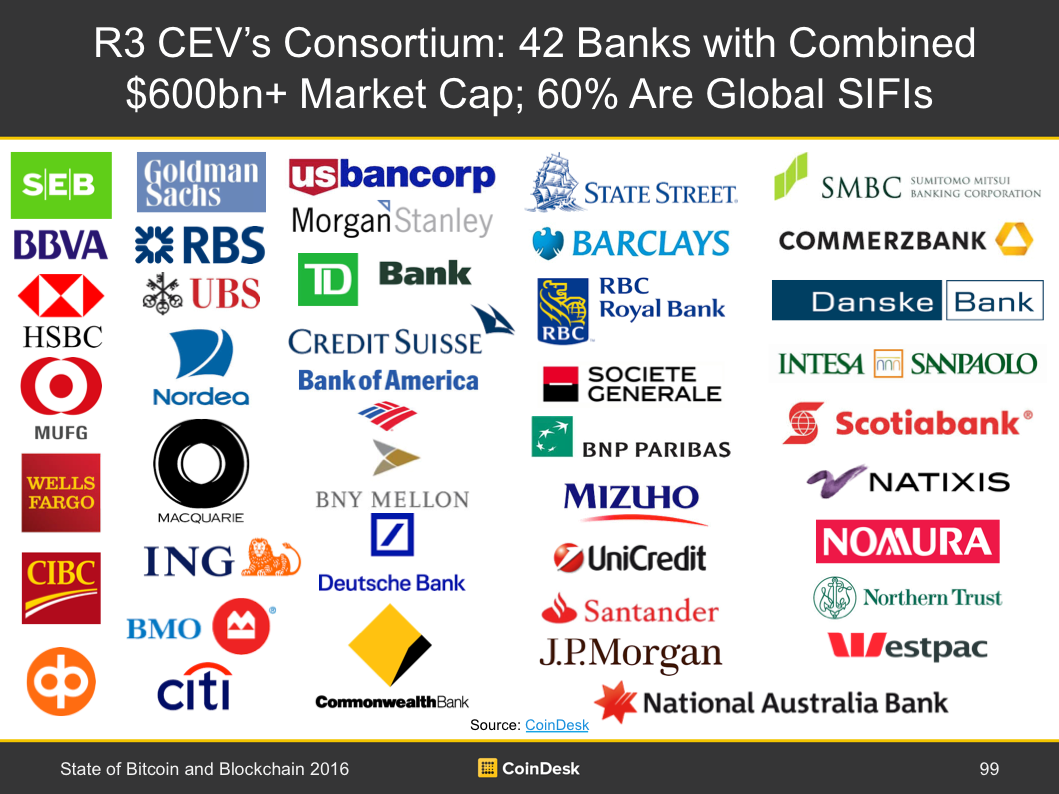 However, R3 has attracted criticism (Slide 101) and now faces competition in the form the recently announced SWIFT consoritum .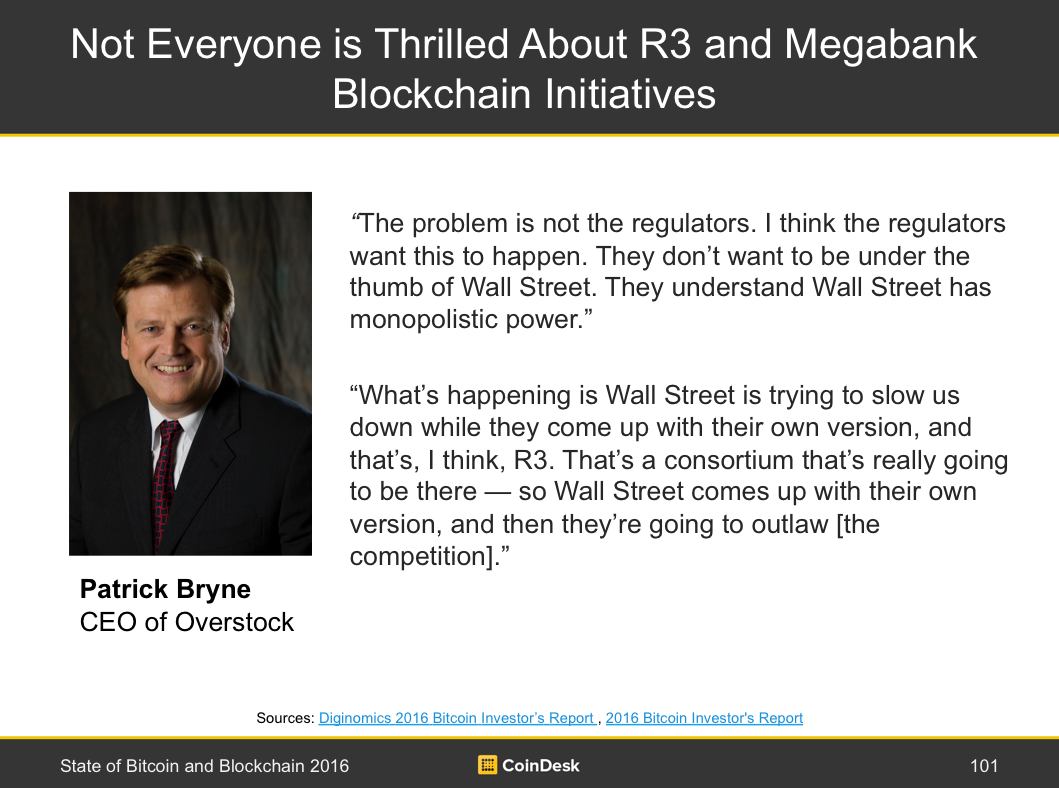 Looking ahead, expect to see various deployments of DLT, along with further attention given to arguably DLT's 'killer app', smart contracts (Slide 95).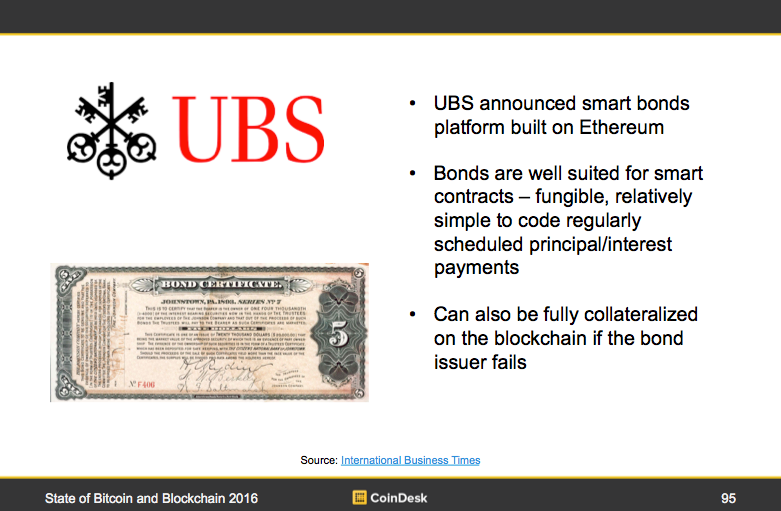 Of particular interest will be whether the Open Ledger Project, which will be managed by the the Linux Foundation, can address the many governance problems observed around software development in 2015 (Slide 118).
Also expect to hear more about Ethereum in 2016 and the decentralized applications being built on its public blockchain, including Slock.it, Augur and Vunk (Slide 109).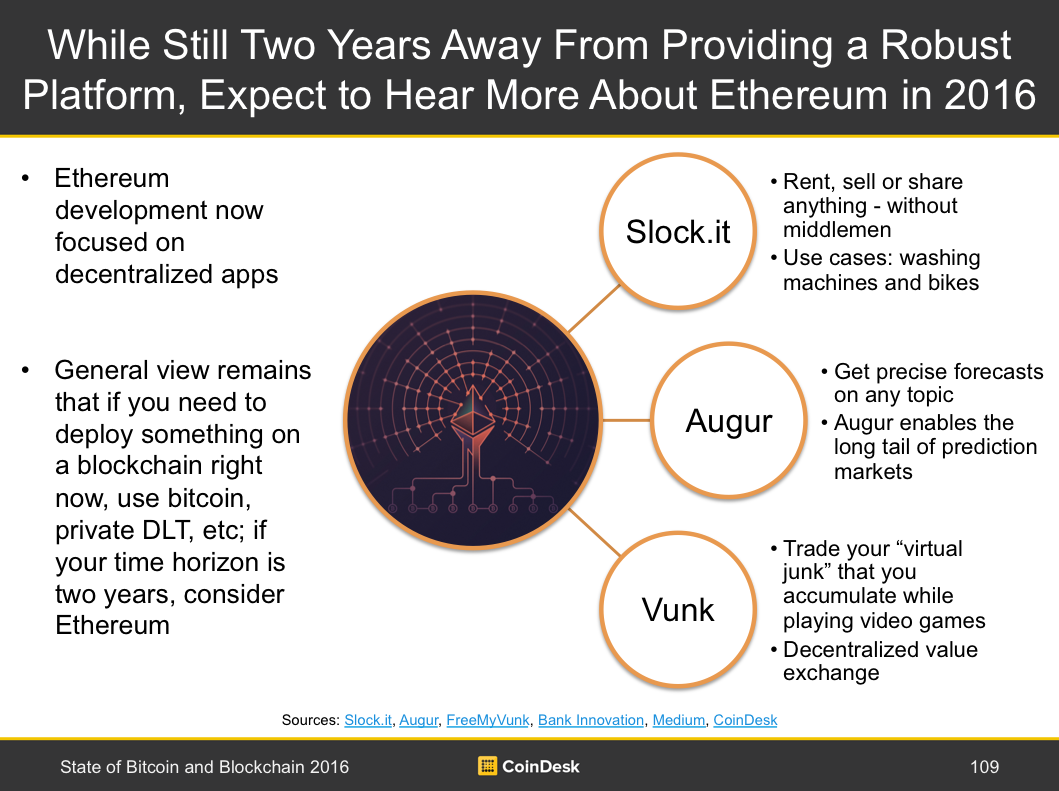 Bitcoin price ends at one-year high
After gradually picking up in Q3, bitcoin's price reached its one-year high of $430.05 in Q4.
Following, a dismal 2014, bitcoin once again sits atop the world's best performing currencies leaderboard (Slide 28).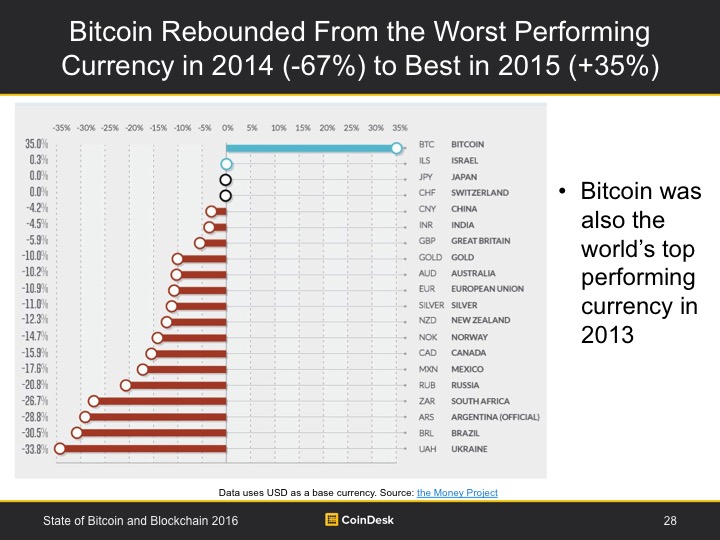 Most believe bitcoin's price has been largely driven by financial instability in China (Slide 30), while other's point to the expected July 2016 halving of the block reward to 12.5 BTC and the resultant reduction in the supply of new bitcoins entering the market.
Sixty percent of the top 10 most-viewed stories on CoinDesk in Q4 were price-related (Slide 42). Furthermore, media coverage of bitcoin on China's Sina increased 42% quarter-on-quarter (Slide 43) as Chinese yuan denominated trading represented 95% of total exchange volume (Slide 44).
Total exchange volume, which tends to increase during periods of higher volatility, was eight times greater in December than in September (Slide 33).
VC investment continues to slow
Total bitcoin venture capital increased by 3% to $949m in Q4.
The growth rate of VC investment has been declining for the past three quarters after peaking at 50% in Q1 2015 (Slide 14).
Investors may be concerned by the viability of current business models and slow consumer adoption. New investment in digital wallets and payment processors has effectively ceased over the past year (Slide 58).
Two more startups announced closure this quarter, bringing the bitcoin 'deadpool' to a total of 24 companies (Slide 17). In addition to lack of funding, 'security' is the most commonly cited reason for closure.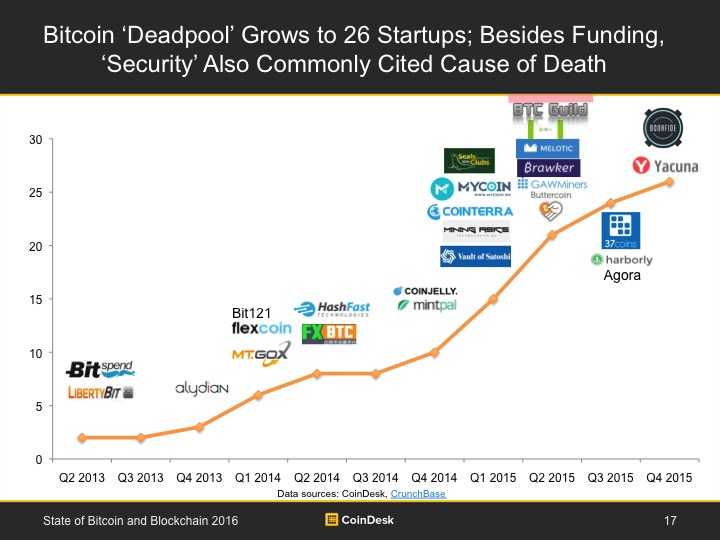 However, most survey respondents remain optimistic about the venture capital investment in the bitcoin and blockchain ecosystems in 2016, and Digital Asset Holding's recently announced $50m round lends this view some early support.
Regulation and central bank digital currency initiatives
Towards the end of the 2015, the European Court of Justice announced its decision to exempt bitcoin transactions from value-added tax (VAT).
European bitcoin companies welcomed this rule and regarded it as a milestone in bitcoin regulation (Slide 81).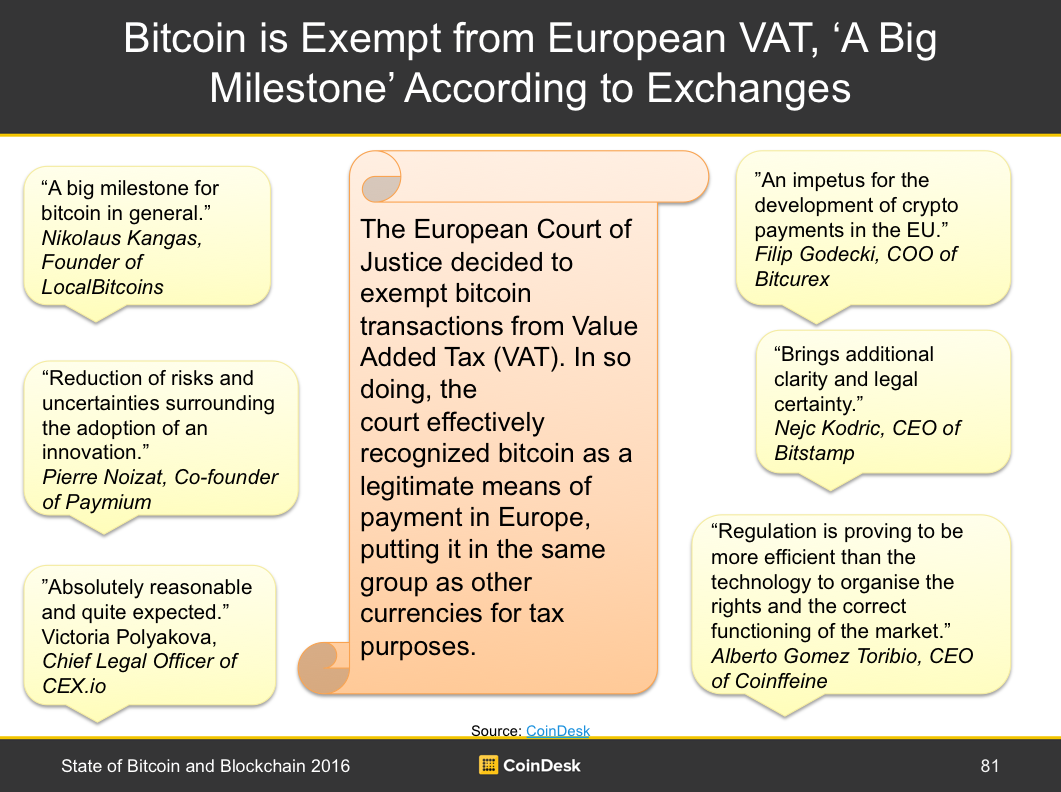 Overall, regulation remained 'light touch' in 2015, and some European countries, like Luxembourg, are are actively seeking to attract startups by fostering a friendly regulatory environment.
The Bank of England recently released a paper examining the macroeconomic consequences of central bank digital currency (Slide 79), and is also actively developing the technology that would allow the bank to deploy its own bitcoin-like currency.
Along with a recent announcements by China, it would not be surprising to see one of the world's governments deploy its own digital currency or blockchain-based system in 2016
View the full State of Bitcoin and Blockchain 2016 report  by subscribing to our research newsletter.